Those Angry Days
Today we think of it as 'The Good War.' But Lynne Olson's excellent new book reminds us that, once upon a time, the question of US involvement in World War II was at least as contentious as Vietnam.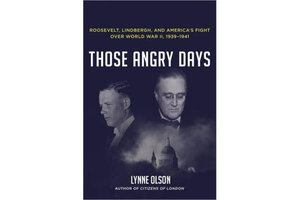 Lynne Olson is best known for "Citizens of London," her 2010 bestseller about Americans who lived in London during the early days of World War II – and their valor and ingenuity in advancing a US role in England's success against the Nazis. She is also the author of "Troublesome Young Men," a 2007 chronicle of the upstart Tories who propelled Winston Churchill to the leadership of wartime Britain.
In Those Angry Days: Roosevelt, Lindbergh, and America's Fight Over World War II, 1939-1941, as in her earlier projects, Olson focuses on a handful of key figures to plumb the broader historical currents sweeping events toward a dramatic milestone. "Those Angry Days" also invites comparison to Olson's other work in revisiting one of her abiding preoccupations: the intersection between politics and war.
"Those Angry Days" takes its title from Arthur Schlesinger Jr., a New Deal Democrat and aide to John F. Kennedy who noted that the intensity of feeling regarding early US involvement in World War II has been largely forgotten. In the days before the Japanese attack on Pearl Harbor, when American interests in the widening global conflagration seemed less clear, the rift between isolationists and interventionists in the United States was wide and deep, said Schlesinger, who called the division "the most savage political debate of my lifetime." He added this observation: "There have been a number of fierce national quarrels – over communism in the later Forties, over McCarthyism in the Fifties, over Vietnam in the Sixties – but none so tore apart families and friendships as this fight."
---