Ten White Geese
'Ten White Geese' follows an Emily Dickinson scholar who seeks a refuge from her marriage – and the world – in a Welsh farmhouse.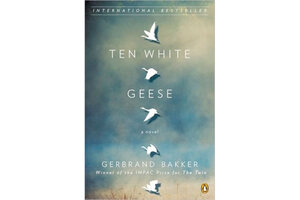 Reviewed by Tess Taylor for Barnes & Noble Review
In this spare yet sensual novel of landscape and meditation, a Dutch Emily Dickinson scholar with a mysterious ailment escapes an unhappy marriage and arrives in Wales to live in a rural farmhouse. The book hints at her history in a few broad strokes. The land she's arrived to spend time in is spare and punctuated with odd garden paths, kissing gates that are overgrown with vines, and, nearby, a yard full of geese, none of which seem to belong to anyone. This I'm-nobody-who-are-you quality rather fits the Dickinson scholar, who spends so much time alone in the first part of the book that we have no reason to learn her name. Rather we learn how she sees landscape through her window and how she comes to plot bodily landmarks around her – the movement of paths to and from the bakery, the nearby pool with its warm stones and tempting water, the looming Welsh mountain that always seems to have its head in a cloud.
Beware: if you're not in the mood for this kind of slow contemplation, if you're craving events and dialog, this book may not be for you. Indeed, for a great many pages, this Dickinsonian's communion is mainly with geese, who keep mysteriously disappearing from the pen, and with a badger, who, improbably, bites her. She's left her cell phone behind on the boat to Wales. Reading this book may make you feel fantastically solitary, too.
Yet what is the point of this kind of hermitage? Even when visitors come, the answers are not wholly revealed. We learn something about the marriage the woman left behind and something about some foiled hopes and stifled passions. We infer the progression of an illness. But mostly, we learn to see the landscape the way the scholar does, watch it change as she changes.
---