Mastermind
Maria Konnikova examines the neurological and psychological underpinnings of the great mind of Sherlock Holmes.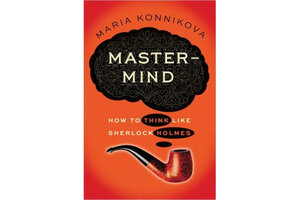 Reviewed by Mark Sarvas for Barnes & Noble Review
He has inspired countless iterations in print and film at the hands of interpreters as diverse as Nicholas Meyer, Michael Chabon, Billy Wilder, Jeremy Brett, and Nicol Williamson. Most recently, we've seen Guy Ritchie's lumbering, noisy feature films go head-to-head with the BBC's superb modern-day "Sherlock." Add to the mix "Elementary," CBS's wan "Sherlock" clone, and it's clear that more than a century after he tumbled into the Reichenbach Falls, Sherlock Holmes's grip on our imagination remains unshakable.
But why? It can't be entirely on literary merit; the Holmes canon of 56 short stories and four novels by Arthur Conan Doyle can be wildly uneven. (Try reading "The Valley of Fear," or most of the stories from "His Last Bow," for that matter. Holmes was never quite the same after he emerged from the falls.) Many of the stories lack suspense, at least by 21st-century standards. So why do we keep returning to 221B Baker Street?
---