The Interestings
Meg Wolitzer follows a group of teenagers from art camp on to adult life, with all its successes and disappointments.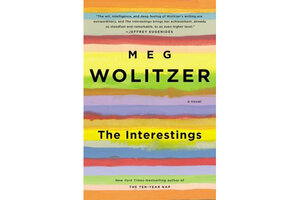 Reviewed by Heller McAlpin for Barnes & Noble Review
"The past is so tenacious," the most talented of the ironically self-proclaimed "Interestings," who bond as teenagers at an arts camp in Meg Wolitzer's wise and expansive ninth novel, comments decades later. "Everyone has basically one aria to sing over their entire life," he adds.
Since the publication of her powerful fifth novel, "The Wife," in 2003 – about a woman who channels her own superior talent into her husband's literary career – Wolitzer has been hitting one high note after another in her ongoing exploration of what constitutes a successful life, particularly for women. Filled with characters whose problems are so familiar you feel you might know them, Wolitzer's novels provide perfect fodder for reading groups, raising questions about the balance of career and personal life, ambition, money, sex, and parenting.
Her impressive run of books in the last decade includes "The Position," about the repercussions of a bestselling "Joy of Sex"–type manual on the authors' grown children; "The Ten-Year Nap," about stay-at-home moms wondering how they landed where they are despite their mothers' feminist struggles; and, most recently, "The Uncoupling," about what happens in a small town when all the women involved in a school production of Aristophanes' Lysistrata eschew sex.
---