Aldo Leopold: A Sand County Almanac & Other Writings on Conservation and Ecology
The collected writings of American naturalist Aldo Leopold appear in a beautiful new edition from the Library of America.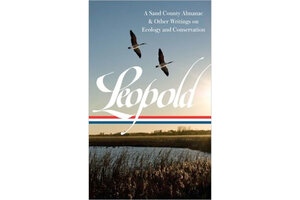 American naturalist Aldo Leopold is best known for "A Sand County Almanac," a book that achieved a success Leopold didn't live to enjoy. Oxford University Press accepted the collection of nature essays in April of 1948, but Leopold died unexpectedly of a heart attack a week later while helping put out a grass fire on his neighbor's rural Wisconsin farm.
Based on Leopold's experiences restoring his own Wisconsin farm to ecological health, "A Sand County Almanac" has sold more than 2 million copies in 10 languages. In one of the more affecting scenes in "Green Fire," a 2011 documentary about Leopold's life, the author's fans can be seen clutching worn paperback editions of his master work. The tattered volumes suggest that many of Leopold's admirers take his prose along with them on hikes and camping trips, enjoying his reflections on the outdoors under the open sky that Leopold claimed as his private cathedral.
The Library of America's new edition, Aldo Leopold: A Sand County Almanac & Other Writings on Conservation and Ecology, is a beautiful book, as all LOA editions are, but one can't easily imagine throwing it in a knapsack. The book follows the LOA tradition of exquisite binding and acid-free paper, with a ribbon bookmark stitched into the spine, and the reader feels as if he's holding a church hymnal. I felt the same way about reading this new Library of America version of Leopold as I did when I got the LOA's Henry David Thoreau collection. There's pleasure, of course, in seeing an American literary original inducted into the LOA's canon – the closest thing in our national culture to a literary hall of fame. But there's a fear, too, that any personality bound up in the LOA's reverentially executed series will seem embalmed.
---