Saul Bellow's Heart
Greg Bellow's memoir of life as Saul Bellow's son offers unique insights into the author and the man.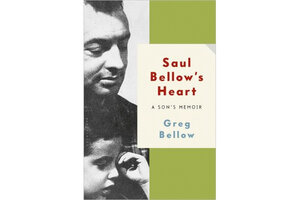 Saul Bellow's eldest son is a retired psychoanalyst, a profession that suited him because he was "able to relate to boys who suffered broken hearts," Greg Bellow writes in Saul Bellow's Heart: A Son's Memoir.
The emotional anguish Greg suffered in childhood was the result of a father who pursued "a life where everything and everyone was subordinated to art," who engaged in "epic philandering" that contributed to the dissolution of four marriages and drove a wedge between him and his firstborn child.
But Greg Bellow's memoir is not a bitter screed about an absentee father who cared more about fictional creations than real people. It's a balanced exposé of a Nobel Prize-winning author whose memorable, fallible narrators (including in "The Adventures of Augie March," "Herzog," and "Henderson the Rain King") closely resemble Saul Bellow at various stages of his emotional and intellectual lives.
"My father's novels are full of well-meaning friends, lawyers, schemers, and advisers brimming with helpful solutions for a series of narrators. Like Saul, his narrators usually ignore the advice and follow their own misguided efforts, which draw them into a destructive vortex."
Bellow's oeuvre has been examined many times by literary critics and biographers, but his son has unique insights into the author's heart, born of long conversations over many years about topics that a less liberal parent would have avoided.
---