The Blind Man's Garden
Two Pakistani brothers flee to Afghanistan after the 9/11 terrorist attacks in this riveting story by Pakistani-British author Nadeem Aslam.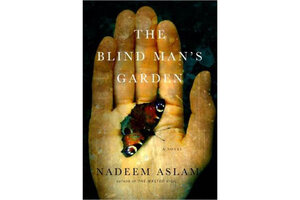 The Blind Man's Garden, the fourth novel by British author Nadeem Aslam, is set in Aslam's native Pakistan and in neighboring Afghanistan following the 9/11 terrorist attacks. A riveting if uneven tale, "The Blind Man's Garden" complements Aslam's "The Wasted Vigil," which depicts the interlocking and unenviable fates of several people during the same period in Afghanistan, with flashbacks to the Afghan-Soviet war.
It is also similar to the earlier novel in terms of style, contrasting enlightened visions of Islam with extremism, setting life-affirming explosions of color in nature and art against the morbidity of much of Pakistani society, and relying too heavily on coincidence to weave together disparate plot elements.
The story, related by an omniscient narrator who inhabits the minds of several characters, begins in Pakistan's Punjab region, in the fictional town of Heer (a name Aslam pointedly borrows from an epic romantic poem in the Punjabi language). Jeo, a young and newly married doctor so naive he is scarcely believable, gives himself a mission. "Wishing to be where he is most needed – to be as close as possible to the carnage of this war – he has arranged in secret to cross over into Afghanistan from Peshawar."
Only Mikal, his older and protective foster brother, knows of his plan and accompanies him despite the fact that he and Jeo's wife, Naheed, are in love. Through a series of sometimes jarring jump-cut sequences, we see Mikal and Jeo's expedition quickly go awry; the Taliban force the two into their ranks, then Mikal is captured by the Northern Alliance and handed over to the Americans.
---