What My Mother Gave Me
Thirty women writers tell of the special gifts – everything from a scarf to a horse to a tourist cruise – that deepened appreciation for their mothers.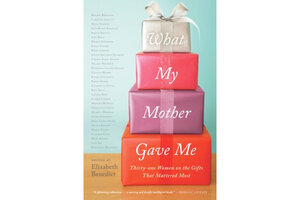 What's the most meaningful gift your mother gave you? That's the question novelist and editor Elizabeth Benedict asked 30 women writers. Their responses, collected in What My Mother Gave Me, provide a beeline into the heart of mother-daughter relationships.
The prized gifts range from the material to the ethereal, the straightforward to the symbolic. Almost all are ultimately instructive, conveying the sort of life lessons rarely delivered in fancy wrapping. They include a salvaged front door that provides a perfect portal to a warm homelife; a sickly plant that delivers lessons about parenting and patience; a life-changing first trip abroad; and money for an interfaith wedding the mother wouldn't live to see, carrying with it her implied blessing.
Not all of the mother-daughter relationships in "What My Mother Gave Me" are close ones, and dismayingly few of the contributors' parents had happy marriages. Many were marred by alcoholism. But the stories these daughters tell about how a scarf, a Buddha, a jade necklace, or a tourist cruise led to deeper understanding and appreciation even for deficient mothers are mostly heartwarming, rather like more polished versions of Dave Isay's Story Corps narratives.
Benedict opens her anthology on an upbeat note, with novelist and biographer Roxana Robinson's tribute to her generous, trusting mom. A polio survivor with an indomitable spirit, Robinson's mother "believed that children were driven by deep yearnings, and that those should, if possible, be satisfied." She indulged her daughter's "heart's desire" for a horse, buying her a red chestnut mare when she was 12 and trusting her to take care of it.
Ann Hood, whose most recent novel is "The Obituary Writer," recalls a gift she detested: an all-white pantsuit. It was an abomination for a girl who cringed at her mother's predilection for matching outfits and elaborate decorations for every holiday. Yet when Hood finally screwed up her nerve to say thanks but no thanks, her gratitude for her mother's gracious reaction is palpable. By acknowledging their differences, Hood comments, "she gave me permission to go into my own mismatched future. What a gift."
---