A Delicate Truth
John le Carré is still at the top of his game with this heady tale of espionage in the age of the war on terror.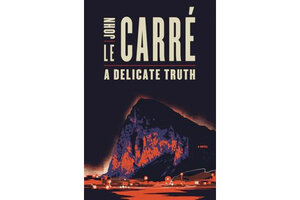 At 81, John le Carré remains in full command of both the craft of writing and the art of espionage. His latest novel, A Delicate Truth, joins several late-career le Carré works set amid the war on terror.
The book begins with a middling Foreign Office diplomat plucked from obscurity and sent into the British territory of Gibraltar as part of a spy mission also involving Americans and a private security firm. The latter bears the inspired, ironic name of Ethical Outcomes.
A shadowy executive at the private contractor serves as the Svengali to former MP Fergus Quinn, the Foreign Office minister who presides over what – inevitably – devolves into a botched mission. The cover-up is where le Carré's tale takes on resonance, both for the bureaucrat, Sir Christopher Probyn, and the minister's disillusioned secretary, Toby Bell.
Dubious morals and the ever-present collateral damage, not to mention the corruption of endless hush money, play their usual starring roles in le Carré's new book. What began as a plot to capture a terrorist-linked arms dealer morphs into horrifying guesswork.
Le Carré's novels may not be fun (see Lee Child's "Jack Reacher" series or Elmore Leonard for that type of thriller), but they are heady and absorbing.
And the author leavens his outrage with solid plotting and dollops of humor.
---