The Real North Korea
Are North Korea's leaders insanely ideological – or merely pragmatic?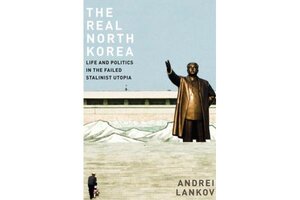 For a glimpse into life in North Korea, take a peek into the country's math textbooks. "During the Fatherland Liberation War [North Korea's official name for the Korean War] the brave uncles of Korean People's Army killed 265 American Imperial bastards in the first battle," reads one question.
"In the second battle they killed 70 more bastards than they had in the first battle. How many bastards did they kill in the second battle? How many bastards did they kill altogether?"
With prompts like that, readers can be forgiven for thinking that life in North Korea is erratic and strange, driven by a blusterous government and "insane ideological zeal," writes Andrei Lankov in The Real North Korea: Life and Politics in the Failed Stalinist Utopia.
For the most part, the so-called hermit state has failed to meet the basic needs of many of its people; an estimated 200,000 of them languish as political prisoners, according to the US Committee for Human Rights in North Korea. The country indeed has errant political leanings, agrees Lankov. But its leaders, he argues, are not hellbent and crazy. Rather, in its quest for survival, North Korea's elite political clique has fallen into a pattern of diplomacy – occasionally backed by nuclear bluster and blackmail, Lankov writes.
The goal? To get aid, money, and concessions from the outside world. It's a desperate but perfectly rational strategy for a government that pours money into its military and faces the very basic need of self-preservation.
"Pyongyang's brinksmanship indeed appears risky at times," writes Lankov, a professor at Kookmin University in Seoul, South Korea. "But so far North Korea's leaders have known where to stop, how not to cross the red line, and how not to provoke an escalation of tensions into a full-scale war."
---