A Man Without Breath
German detective Bernie Gunther is back, to investigate an unspeakable atrocity.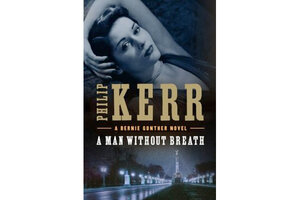 Reviewed by Anna Mundow for Barnes & Noble Review
Philip Kerr's latest novel, A Man Without Breath, spans just three months in the spring of 1943 yet includes some of the most dramatic events of the Second World War. The German defeat at Stalingrad; the attempted assassination of Adolf Hitler; the Russian massacre of more than 14,000 Polish officers in the Katyn Forest: these are weighty matters to graft onto the slim armature of a crime novel. But Kerr is an old hand at this. "A Man Without Breath" is, after all, the ninth installment in his wartime Bernie Gunther series, and from the first, "March Violets," it was clear that he could blend formidable historical research and keen political insight to produce thrilling fiction.
Kerr is also an acute satirist. Throughout the series, employing Gunther's sardonic gaze, he portrays the chief architects of Nazi Germany and their underlings in all their brutality, venality, and shabbiness."[T]hat's the trouble with dyed-in-the-wool Nazis," Gunther observes, for instance, of a zealous Gestapo agent, "stupidity, ignorance, and prejudice always get in the way of them seeing the bigger picture. But for that they might be impossible to deal with."
As a Berlin police detective, Gunther has dealings with Heydrich, Goebbels, and other Reich leaders who are often the objects of his most caustic wit. By 1943, however, even that wit is subdued. There are fewer wisecracks in "A Man Without Breath," a novel that from the outset exudes an air of exhaustion and defeat. "[W]e're pretending that there's law and order and something worth fighting for," Gunther shouts at a Wehrmacht officer. "But there isn't. Not now. There's just insanity and chaos and slaughter and maybe something worse that's yet to come."
---