The Selected Letters of Willa Cather
The novelist's letters are rich and varied and make a valuable addition to the world of letters.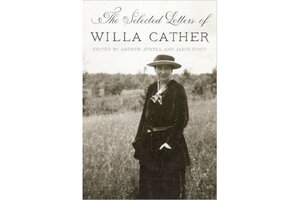 Reviewed by Katherine A. Powers for Barnes & Noble Review
This year marks the 100th anniversary of Willa Cather's "O Pioneers!," the first of her novels set on the Nebraska plains, a work whose thoroughly American vision and simple language helped release this country's literature from obeisance to European taste at the high end, and the "jocular, familiar," and "grapenutsy" at the low. That description of the folksy, hayseed strain in American fiction is Cather's, but only now revealed, for this year also sees the publication of The Selected Letters of Willa Cather, edited by Andrew Jewell and Janis Stout, an event the strong-minded writer would never have welcomed.
Willa Cather declared in her will that she did not want her letters published or even quoted from and asked her family, friends, and their executors to destroy correspondence from her. It has taken the death of her nephew, Charles Cather, in 2011, and the turning over of her copyrights to the Willa Cather Trust, for her wishes to be flouted.
In their introduction to this big book, Jewell and Stout admit that they "flagrantly defy Cather's will" but give widely assorted reasons for doing so: They say that Cather wrote her will in "the last, dark years of her life" (with darkened judgment?); they observe that anyone who might be hurt by the letters' publication is now dead; that the summaries of Cather's letters (which were permitted) were inadequate and misleading; and that as Cather did not cause her letters to be "systematically" destroyed, the great number of letters still extant suggest she didn't really intend them to disappear. They say that, all told, Cather and her writing, including her letters, are part of our cultural history and "belong to something greater than herself." This last, in my view, is the only justification we need. The publication of Willa Cather's letters, like other contraventions of writers' wishes (the many biographies of George Orwell being a good example) comes down to the simple fact: the dead belong to the living.
---