Daily Rituals
From Beethoven to Kafka to Warhol, artists reveal the daily rituals that help them create.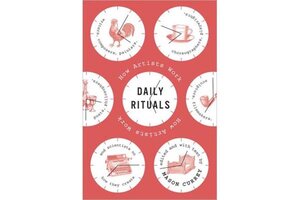 Ernest Hemingway rose by 6 o'clock in the morning, no matter what escapades had taken place the night before, and he wrote his first drafts in pencil on onionskin typewriter paper. He tracked his daily word count on a chart – so as not to fool himself, he said.
Nikola Tesla, the inventor and scientist, arrived at his office at noon and lowered the blinds; he worked best in the dark.
Maya Angelou can't concentrate on her writing at home, so she leaves each day by 7 in the morning to work in hotel or motel rooms – "a tiny, mean room with just a bed, and sometimes, if I can find it, a face basin."
Daily Rituals: How Artists Work, by Mason Currey, presents the working habits of 161 creative people, including novelists, composers, scientists, poets, psychologists, filmmakers, and philosophers. Collected here are patterns that are both idiosyncratic and predictable: Coffee, unsurprisingly, was an essential part of the day for everyone from Ludwig van Beethoven to Thomas Mann to Flannery O'Connor.
As Currey tells us in the introduction, the book is "about the circumstances of creative activity, not the product; it deals with manufacturing, rather than meaning."
---