Homeward Bound
The 'new domesticity' is persuading many mothers to stay home. But is that really the best answer for moms – or their children?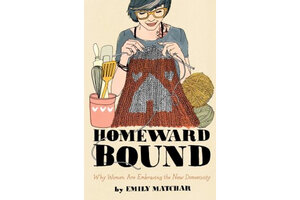 At a time when Sheryl Sandberg suggests that women lean in, a certain segment of middle class and upper middle class women and men are leaning back.
They're quitting the corporate world to stay home with the kids. They're crafting their own art and clothing and selling it on Etsy. They're growing their own fruits and vegetables and canning their own food. They're returning to a slower, less consumer-oriented lifestyle that appeals to those who have grown disillusioned by the economy, office life, and America's weak social safety net. But what if do-it-yourself (DIY) parenting, crafting, and cooking aren't the romantic ideals that one might assume they'd be?
That's where Emily Matchar's new book Homeward Bound: Why Women Are Embracing the New Domesticity comes in. Chock-full of historical context, strong research, and compelling personal stories, the book uses a feminist framework to examine the fraught issues that give way to and result from what Matchar calls the New Domesticity.
In part, says the author, this reclamation of traditional women's work is a reaction to the careerism of baby boomer parents. By witnessing how unfulfilling corporate life has been, Gen Xers and millennials strive for more creative work outside the confines of the cubicle.
Unfortunately, the work-from-home writing life showcased on sites like BlogHer doesn't make much financial sense. "While Dooce may make enough moolah to boss Maytag around, only 18 percent of bloggers make any nonsalary money off their blogs," Matchar writes. "And of those, the average yearly salary earnings are less than $10,000."
---