Red Moon
Benjamin Percy's supernatural novel is audaciously complex and hauntingly composed.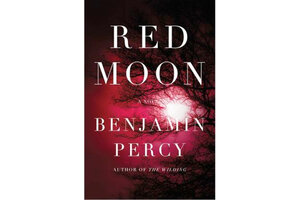 Much like the careful re-introduction of wolves to the wild places of the American West, it seems that the landscape of American horror is at last being repopulated with a nearly-extinct lupine strain. Oh, sure, we've had a tamer version of the species padding around for a while now, showing up with a carefully brushed coat to provide second-banana love interests in the "Twilight" series and HBO's Southern Gothic vamp soap "True Blood." Quasi-domesticated packs can also be found roaming in the ever-expanding realm called "paranormal romance" or "urban fantasy." But, amongst all of that country's bloodsuckers, faerie folk, and various ruggedly appealing manimals, the modern werewolf has to fight for space in a crowded, resource-poor ecosystem.
Only distant kin to these nobly savage "shifters" is the old breed: the werewolf as monster within, avatar of the id, a beast of pure appetite. Stop to romanticize his plight and he'll have you for lunch. Long a staple of American cinematic scream machines, from "The Wolf Man" to "An American Werewolf in London," he eventually lurched back into the woods – in shame, I suspect, after the humiliation of Michael J. Fox's "Teen Wolf."
---