The Unwinding
Is America coming undone? New Yorker writer George Packer describes a slow meltdown.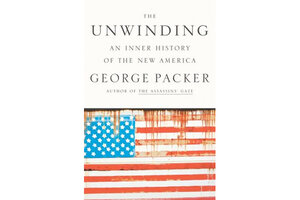 The first thing to note about The Unwinding, George Packer's masterful new book, is its title. He's selected an ambitious subject: how, over the last few decades, and all across America, our norms, practices, and communities have come undone. It's never surprising when Packer, a staff writer at The New Yorker, arrives at a cranky conclusion. (He once used his magazine's website to tell Twitter to "stop.") But Packer's crankiness is also thoughtful, thorough, and persuasive. Think of all the destructive, marketing-friendly metaphors he might have chosen for his title – maybe, say, a "cliff." Instead, Packer opted for something more subtle and insidious. Whatever bound America together, he argues, has slowly been unwound.
Packer advances this argument by telling stories. "The Unwinding" features four main characters: Dean Price, a small business owner in rural North Carolina; Tammy Thomas, a factory worker in Youngstown, Ohio; Jeff Connaughton, a lobbyist in Washington; and Peter Thiel, a venture capitalist in Silicon Valley. In rotating chapters, he narrates their lives from the 1970s up to today.
---