Margaret Thatcher: From Grantham to the Falklands
Margaret Thatcher is portrayed as "a woman of beliefs" rather than a generator of ideas in this first volume of her authorized biography.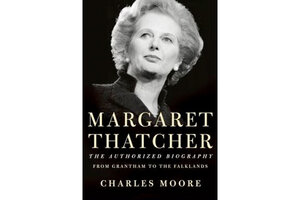 Appearing mere weeks after the April 8 death of Lady Margaret Thatcher, British journalist Charles Moore's authorized biography of Thatcher is no rush job. He essentially completed the two-volume project long before Thatcher's death, with the understanding that the book wouldn't be released until after the former prime minister had died. Her passing triggered the release of Volume I in Britain shortly after her funeral, and the first installment of Moore's series is now available to American readers through this U.S. edition.
Moore is aware that as an "authorized biography," his account of Thatcher's life and career will invite obvious questions about its objectivity. Luckily, From Grantham to the Falklands isn't an exercise in political hagiography. As Moore explains, Thatcher selected him to write her story and gave him full access to herself for interviews as well as to her papers. She also helped him with requests for interviews of those who knew her best, including her friends, political associates, and family members. Moore writes that his book "is described as an 'authorized' biography, because Mrs. Thatcher asked me to write it, but our agreement also stipulated that Lady Thatcher was not permitted to read my manuscript and the book could not appear in her lifetime. This was partly to spare her, in old age, any controversy that might result from publication, but mainly to reassure readers that she had not been able to exert any control over what was said."
Moore uses his freedom to good advantage. Although his depiction of Thatcher is generally sympathetic, he keeps his subject at arm's length, and critical observations abound. One of the abiding themes of the book is that Thatcher, like her friend and fellow conservative, Ronald Reagan, had a genius for being underestimated. He includes the story of a political insider who assumed Thatcher was retaining very little of what he was telling her, only to discover that she had perfect recall of the complicated policy data he had shared.
---