The Other Side of the Tiber
Wallis Wilde-Menozzi offers an insider's perspective on 30 years of life as a foreigner in Italy.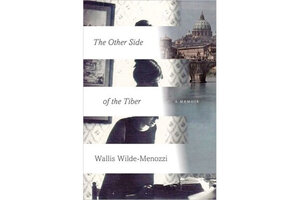 Standing in a police station in late '60s Rome, Wallis Wilde-Menozzi waited for a clerk to decide her fate. She was 26, American, and in need of a work permit. She'd traded tenure at an Oxford technical college for the uncertain life of a writer. Scanning her application, the clerk dictated a new statement for her. "I came to Rome because I was a writer and I needed the inspiration of ancestors, the classical world, the sound of feet on stones." He stamped the approval, chiding, "You can't say just one book. You need time."
The Other Side of the Tiber celebrates the spontaneity, bureaucratic complexity, and cultural abundance that is Italy today. Permesso, the Italian word for work permit, gave Mennozi what she was really after in 1968: permission to write. She never forgot the clerk's clear instruction. Books. Plural. Now a published novelist, poet and translator, Menozzi is best known for her acclaimed memoir "Mother Tongue."
This sequel, an insider's reflections on 30 years in Italy, resists the clichés of split vision – ancient/modern; north/south; timeless/chaotic. Instead Menozzi focuses on how such opposites can nurture a life in search of transformation. Menozzi is an elegant writer who never falls into contemporary memoir's culture of complaint. Her subject is Italy's layered identity. But the memoir's deeper story reveals how buried parts of herself surfaced. Over time, she discovered a deep capacity for commitment, not just to creative work, but also to a new marriage, motherhood, and a settled life in Parma, where she now lives.
The eye "used to the bluer light of the Midwest" from a Wisconsin childhood soon adapted to "the scorching raven black streets of Rome." Menozzi turns that eye on a Mediterranean world, "clustered excess to be admired, picked, displayed, eaten, enjoyed." The memoir is itself an open market. Written in short, self-contained sections with headings such as "Memory," "Layers," and "Hungry and Untrained Eyes," it offers glimpses of the Pantheon's light, paving stones, kiosks, volcanoes, Italian donuts, pink marble, walking shoes, the frescoed walls of empress Livia's dining room, "depicting palms, cypresses, quince, pomegranates, doves, and laurel." Together, these short sections mirror the working of memory itself, offering a slideshow of Italy across time, from the Etruscans to today's Slow Food movement.
---