And the Mountains Echoed
Khaled Hosseini's third novel – his most complex so far – traces a powerful emotional arc.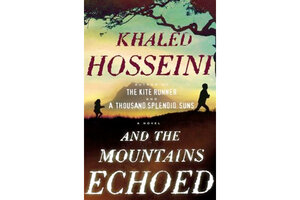 And the Mountains Echoed, Khaled Hosseini's third novel, opens with a bedtime story – one that packs a wallop.
"So then. You want a story and I will tell you one," comes the sly opening sentence, since readers definitely want more stories from "The Kite Runner" author.
A div, a giant mythological being, comes to a poor man's house and demands a child. The man draws lots and the number of his favorite son comes up. Half-mad with grief and guilt, the man goes on a quest to kill the div – only to find his son living happily in a palace, surrounded by other children, with no memory of his past. His father wants to take the little boy home, until the div asks him where he would be better off. Heartbroken, the man leaves.
"When you have lived as long as I have," the div tells him, "you'll realize cruelty and benevolence are but shades of the same color."
The story is being told by Saboor, a poor day laborer in a northern Afghan village, to the inseparable children of his first wife, 10-year-old Abdullah and three-year-old Pari.
The next day, Saboor leaves for Kabul, carting Pari in a wagon. Abdullah, who refuses to be left behind, thinks his dad is going out on a job. But the purpose of Saboor's trip, revealed in a devastating set-piece, is to hand Pari over to a wealthy couple.
While his first novel was enough to make Hosseini a household name, he's improved as a writer with every book since. "And the Mountains Echoed" is the most complex novel of his career – hopscotching from character to character over decades and countries, with an emotional arc powerful enough to carry over the distance.
The too-tidy ending and melodramatic plot manipulations of "The Kite Runner," and, to a lesser degree, "A Thousand Splendid Suns" have been dialed back in this novel-in-stories, while Hosseini hasn't lost his impressive ability to grab a reader by the throat. As always, the history of Afghanistan is central to his writing. Hosseini incorporates his widest swath yet, traveling from 1952 to the present day and adding layers and resonance with parallel sets of characters and plot details that echo many chapters later.
---