A Book of Voyages
Patrick O'Brian's "A Book of Voyages" – available in America for the first time – spans the globe with some of history's most adventurous writers.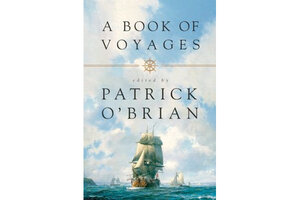 Reviewed by Michael O'Donnell for Barnes & Noble Review
One of the many pleasures of the late Patrick O'Brian's novels about the British navy during the age of sail is O'Brian's sense of enchantment with the fascinatingly diverse world we inhabit. Travel widely enough with him and you encounter sultans and pashas, geographical marvels and zoological specimens, bejeweled parasols, Hamlet's grave, hussars, Cossacks – maybe even a unicorn. Not to mention the vast blue sea and the splendid vessels that traverse it!
O'Brian's twenty-volume Aubrey-Maturin series – published from 1970 to 1999 – is beloved by its many devotees because its wonders seem endless: its pages span the globe as they fill the heart. It does not hurt that O'Brian has a finely wrought prose style that is as powerful in its way as Jane Austen's or Henry James's. But with more cannon.
O'Brian drew inspiration, as his novels' charmingly fastidious prefaces suggest, from firsthand accounts: of naval actions, certainly, but also of leisurely travels. A Book of Voyages is a collection of excerpts from his favorite civilian primary sources; it has just been published for the first time in the United States. It is well worth having, and for much more than the sheer joy of finding a new book with O'Brian's name on the cover. Its main contents are travel diaries and correspondence from the seventeenth and eighteenth centuries. O'Brian's dry section titles – "Pleasant Voyages," "Unpleasant Voyages" (most of these end in cannibalism), "Oriental Splendor," "Inefficient Pirates" – give a sense of the delights within.
---