Americanah
Chimamanda Ngozi Adichie's cosmopolitan new novel 'Americanah' follows two Nigerian odysseys.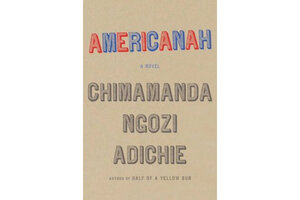 Reviewed by Steven G. Kellman for Barnes & Noble Review
Bitter over her failure to be taken seriously, a fictional African-American writer whom Chimamanda Ngozi Adichie places in New York complains: "You can't write an honest novel about race in this country." Americanah is an attempt to do just that, with trenchant observations about social distinctions in not just one country, the United States, but Britain and Nigeria as well.
Adichie located her first two – award-winning – novels, "Purple Hibiscus" (2003) and "Half of a Yellow Sun" (2006), entirely within her native Nigeria. However, her third novel, set in three countries in three continents, is an affirmation of literary globalization. Like "Open City" (2011), which Teju Cole, who also divides his time between the United States and Nigeria, set in New York, Brussels, and Lagos, Adichie defies the glib categories of nationality. Does she belong to American literature? Nigerian? "Americanah" is cosmopolitan fiction that seeks universal truths in the particulars of three distinct cultures.
The novel begins in Trenton, New Jersey, in a braiding salon where a young woman named Ifemelu has gone to get her hair done by African émigrées. After 13 years in the United States, she will soon fly back to Nigeria. Though the narrative returns to the salon from time to time, much of "Americanah" takes the form of extended flashbacks to Ifemelu's childhood in Nigeria and her experiences in the United States.
---