Steal the Menu
Raymond Sokolov may occasionally alienate the reader, but his memoir is knowledgeable and fascinating.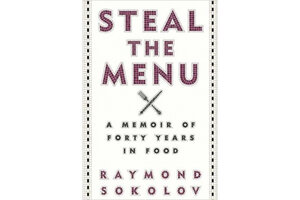 Reviewed by Peter Lewis for Barnes & Noble Review
I'm surrounded by serious, professional, and, I don't think it is too much to say, influential food people. (Send me an SASE and I will divulge their names; they hold fast to their privacy, but I'll sell them out if you include a $5 bill.)
They daunt me, they delight me by the way they quarry into food's elementals. It seems trite now – local, fresh, seasonal, humane, yes yes – all good. But delicious? Not necessarily; the promise is in the cook. These people show me the flavor. They know their foodstuffs, are respectful and aware of how to coax the best from that life, whether watercress or leg of lamb. And their single-mindedness in that pursuit makes many of them memorable characters, charmingly eccentric or as challenging to the social palate as fermented yak milk.
Raymond Sokolov is not an easy character. He is pontifical. He went to Harvard, and you will be reminded in his new memoir, Steal the Menu, that he went to Harvard, about 539 times in 256 pages. Back in 1976, he published a book titled "The Saucier's Apprentice." It, too, is pontifical, but "The Saucier's Apprentice" was and is a revolutionary tract for the home cook, one that will guide the enthusiastic but inept cook to something they can make, with a bit of attention, that tastes great – delicious – for everything tastes better when ladled with a luscious and lubricating sauce, bath, or dollop: africaine, poivrade, veloutés, béchamels, béarnaise, hollandaise, cheese sauce for the cauliflower, cheese sauce for the macaroni, and, God's gift, mayonnaise.
"Steal the Menu" is a fun memoir of self-regard – "If you graduate first in your class at high school and continue on to get a summa in classics from Harvard (picking up the undergraduate thesis prize and a junior year Phi Beta Kappa key along the way), you can be pardoned for thinking your brain is in good working order" – that can be a little stiff but never defensive, for Sokolov, he reminds you, is most always right.
---