We Are All Completely Beside Ourselves
Karen Joy Fowler's outstanding new novel lands with the force of a haymaker.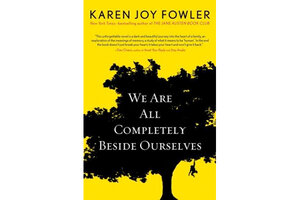 Rosemary Cooke was the youngest of three children. But for the past decade, she has grown up as an only child. Her sister, Fern, disappeared when she was five; her brother, Lowell, left home more than 10 years ago to find her.
"The last time I saw him, I was 11 years old and he hated my guts," Rosemary tells readers.
When it comes to Karen Joy Fowler's outstanding new novel, We Are All Completely Beside Ourselves, you want to be extremely careful to avoid spoilers. If someone tries to describe the plot to you, just stick your fingers in your ears and recite loudly: "La, la, la – I can't hear you." Or quit reading this review now and go buy the book before some well-meaning individual wrecks it for you.
While Rosemary says that "some will have guessed," the twist at the heart of the novel, this reader sure didn't. The revelation was totally unexpected – and the consequences of what it meant unexpectedly powerful. To have it described in advance just makes the novel sound quirky, a disservice to writer and reader.
For readers who only know Fowler from 2004's charming and impeccably-timed bestseller, "The Jane Austen Book Club," her new novel will land with the force of a haymaker. In a novel that blends fiction and science, Fowler takes on what it means to be a family, the nature of memory and grief, and where the dividing line between the human and humanity lies. Fowler is so good at character and sneaky profundity that it's easy to forgive a few muddled chapters' worth of plot near the end.
Rosemary – who used to be a happy chatterbox, overflowing with words – starts in the middle, as her professor father advised when he was too tired to listen to her prattle anymore.
---