Revolutionary Summer
Joseph J. Ellis offers a stirring account of the fateful summer of 1776 – when Americans had to decide who they really were.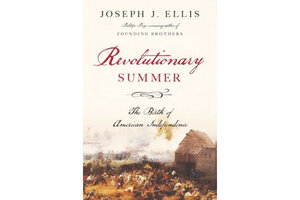 Joseph J. Ellis's tenth book does not disappoint. I mean it in the best possible sense when I say that Revolutionary Summer: The Birth of American Independence reads like a good yarn by a kindly uncle who, the listener comes to feel, may well have been a participant in the events he describes.
Ellis's story is about the battle for Manhattan and for the hearts and minds of fledgling Americans in the summer of 1776. Fully one in five colonists were Tories during the American War for Independence, and many others were what pollsters today would term "undecided." The fortunes of war and politics were intimately intertwined.
Ellis, a scholar of the American Revolution and winner of the Pulitzer Prize for "Founding Brothers," captures this critical moment in our history with clarity, as well as a soft-spoken authority that is endearing. At one point, in positing his overarching thesis for "Revolutionary Summer," the author concedes, "at least in my version." What's not to like about a distinguished historian who is humble and can turn a phrase on a dime?
The author's contention is that from May to October of 1776, the American rebellion flowered and the rebels managed to avert twin political and military disasters at a time when the Continental Army was on life-support – actually, it would remain so for the duration. It was also a time when Americans were still largely uncertain as to what exactly they were doing and who they were or would become. "Beyond independence, Americans had no consensus on what being American meant," Ellis asserts.
---