American Gun
Chris Kyle's examination of the place of weapons in our culture arrives at just the right time.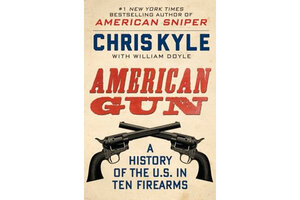 Reviewed by Melissa H. Pierson for Barnes & Noble Review
There has never been a better moment to launch a literary examination of how American history has been shaped by the guns we've used. Or maybe the time has never been worse. The gun, symbol and reality both, has become in past months the most divisive agent in the ongoing debate about who we are and where we're going as a nation.
It is beyond germane that the author's life and recent death – at the wrong end of the weapon he mastered and revered – concisely summarizes both sides of a vexatious argument and, for good measure, puts a fillip of anguished irony on top. Chris Kyle had not yet finished writing this paean to the instrument with which he was murdered last February. He had no way to know that with American Gun: A History of the U.S. in Ten Firearms, he was inscribing his own memorial, one that will always in some way remain incomplete.
By now only someone who has been on a long vacation in a foreign land with sorry connectivity (here we exclude Iraq) is not acquainted with Kyle, decorated Navy SEAL and the deadliest sniper in US military history (160 confirmed kills and likely far more than that); bestselling author of last year's "American Sniper"; the subject of extended articles (including a somber e-single by Anthony Swofford, a former Marine sniper uniquely positioned among journalists to consider Kyle's life and untimely death); and soon to be played by Bradley Cooper in a Spielberg film. He was not exactly bigger than life, but his outlines were more distinctly inked than nature usually draws. His death is only now adding chiaroscuro to the image of a superhero.
---