Silent Voices
Ann Cleeves unleashes a 'large and shambolic' female detective – a refreshing break from current mystery trends.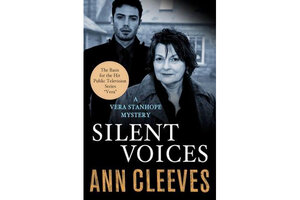 Reviewed by Anna Mundow for Barnes & Noble Review
The fictional female detective has altered greatly since the heyday of the genteel village lady who stumbles upon murder. And the dull, small world she inhabited, masterfully evoked by writers such as Patricia Wentworth and Sheila Radley (a personal favorite), lies buried under a gooey avalanche of theme mysteries (cookies, cats, crafts – take your pick). But just when it seemed that any sleuthing heroine must be either a perky quilter or a tattooed avenger, along comes Detective Inspector Vera Stanhope.
Hardly genteel, Vera is nonetheless a reassuring sight to readers of Ann Cleeves's Silent Voices, if not to those under the DI's scrutiny. "When he saw her approaching, she noticed the surprise and disappointment on his face. Perhaps he'd been hoping for Helen Mirren," Vera observes of one encounter. An earlier interview begins the same way. "She was confused, Vera could tell," we read of snooty Mrs. Eliot, "The car Vera was driving was large, new, and rather expensive. One of the perks of her rank. Mrs. Eliot would consider it the sort of car to be driven by a successful man. Yet Vera was large and shambolic, with bare legs and blotchy skin.... Vera looked poor."
Like Reginald Hill's beloved protagonist Andy Dalziel, Vera is cunning and irreverent. "God," she thinks, listening to the outpourings of one witness, "what self-indulgent drivel. I'd rather spend time with an honest criminal any day than with this introspective woman." Her manner with interviewees can be indelicate. "Don't piss me about," she wearily advises a recalcitrant householder. "I'm not in the mood … let me in so that I can take the weight off my legs."
---