Anne Frank: The Biography
New material allows German historian and biographer Melissa Müller to offer a deeper, more nuanced view of the world's most famous Holocaust diarist.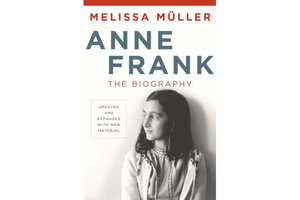 In Teju Cole's "Open City," a Moroccan character named Khalil claims that Europe lacks freedom because "[i]f you say anything about Israel, you have your mouth plugged with the six million." He is, of course, referring to the six million Jewish victims of the Holocaust.
The beauty and value of Anne Frank's diary, and the life-story that emerged from its publication, lies in the way it transforms that statistic into an individual life of artistic and intellectual promise. When I first read the diary as an adolescent, Anne's voice resonated: we shared a birthday and Jewish heritage, and I related to her crushes, rebellions and ambitions.
Initially I worried that revisiting that narrative might be superfluous and even (I'll admit it) potentially dry. Yet Melissa Müller's updated version of Anne Frank: The Biography is anything but.
In her comprehensive and nuanced portrait of Anne and her collapsing world, Müller has given us Anne Frank for adults. Whether describing the dynamics of Otto and Edith Frank's marriage, assessing the leaks that may have lead to the family's discovery (some of this is new material), or sketching a picture of Anne's world in the Annex and then, hauntingly, the camps, Müller's work is flawlessly researched and compellingly written.
---