TransAtlantic
National Book Award winner Colum McCann delivers one of the more beautifully written novels of the year.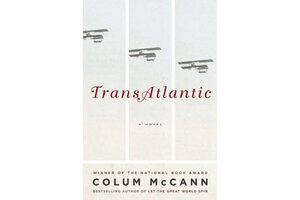 Colum McCann works best at high altitudes.
With his last novel, "Let the Great World Spin," McCann won the National Book Award for his series of stories about New Yorkers who were changed the day Philippe Petit walked on a wire between the Twin Towers.
His newest novel, "TransAtlantic," spans 150 years rather than just a few days, but it too features high-flying daredevils and interlocking tales that hinge on real-life events.
The novel opens in 1919, as James Alcock and Teddy Brown prepare to pilot their Vickers Vimy bomber for the first successful transatlantic flight, carrying a bag full of the world's first airmail. (One of those letters will figure in the novel's final section.) As parts break off their plane and they fly blindly through clouds, running the risk of freezing to death, the two men can't even speak to each other over the noise. Neither can swim, but they're supplied with ham sandwiches and flasks of hot tea, licorice and chocolate bars. Razors are packed carefully into their luggage, so that they can present smoothly shaven countenances for reporters on the other side.
Their flight raised the possibilities for flight beyond warfare. As one character points out, the two men "took the war out of the plane."
The next sections of the novel follow two American statesmen on journeys to Ireland.
---