The Boys in the Boat
How a scrappy team of Washington rowers pulled past the world at the Berlin Olympics.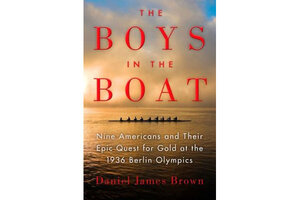 By Katherine A. Powers for Barnes & Noble Review
The only rowing I have ever done in my life is in a heavy rowboat in the sea, with the goal, occasionally achieved, of getting a fish on my line. Of competitive rowing, I have known absolutely nothing until recently, this despite observing countless singles and crews plying the waters of the Charles River, along which I walk almost every day.
Passing between Cambridge and Boston, the river teems with rowers a good part of the year, the most splendid sight of all being the eights sweeping by with their little, brass-voiced coxswains barking from the stern. Daniel James Brown's The Boys in the Boat: Nine Americans and Their Epic Quest for Gold at the 1936 Berlin Olympics is a fine introduction to the sport (the oldest chronicled one, he says). It is a story of the triumph of nobodies from nowhere, punctuated by truly thrilling accounts of contests of strategy, stamina, and might.
I don't think I give too much away in saying that the American rowing eight won the gold at the 1936 Summer Olympics in Berlin and that it did so in the face of dishonorable machinations on the part of the organizers. I will even reveal that the Husky Clipper, the shell the Americans rowed to victory, was christened by its builder with sauerkraut juice.
But if the Olympics make up the book's culminating event, its center is occupied by Joe Rantz, an impecunious boy from a troubled family background, 22 years old when he went to Berlin. Born in Spokane, Joe was the second son of Harry, a person so inspired by the marvels and promise of technological progress that he married his first wife over the telephone. Harry, however, was not a lucky man: his various business endeavors failed; his wife, Joe's mother, died; and his second wife eventually insisted on Joe's expulsion from the family. For Joe it was a sad beginning to a what became, thanks to his endurance and courage, a happy life.
---