Spartacus
He was a gladiator, rebel, and hero of Hollywood. But who was the man behind the myth?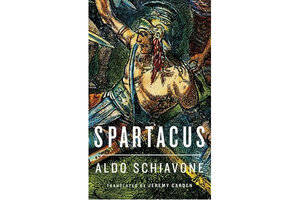 By Adam Kirsch for The Barnes & Noble Review
The reputation of Spartacus, like so much of what we know about the leading figures of the ancient world, can be compared to an upside-down pyramid: a huge structure of legend and speculation sustained by a tiny foundation of text.
There is no doubt that Spartacus really existed or that, in the years 73–71 B.C., he led a major slave rebellion in southern Italy. But everything we know about him and his military campaigns, which for a moment threatened to bring down the Roman Republic, comes from two historians, Plutarch and Appian, who lived some 200 years after Spartacus; taken together, both devote no more than 10 pages to him. Earlier historians, such as Sallust and Livy, also wrote about Spartacus, but only scraps of the relevant works survive; and there are some scattered references in other historians, including Julius Caesar.
Yet on this slender basis, Spartacus became a powerful symbol – the slave who stood up to an empire, the liberator who turned a rabble into an army. In 1918, when Karl Liebknecht and Rosa Luxemburg founded a new revolutionary Communist party in Germany, they called it the Sparticist League. For Americans today, probably the most enduring image of Spartacus comes from the 1960 movie in which the slave leader was played by Kirk Douglas; not coincidentally, that movie was based on a novel by the steadfastly Communist writer Howard Fast. Indeed, it's possible that the modern world, with its dreams of equality and liberation of oppressed groups, has made more of Spartacus than any earlier period.
In his new biography, Spartacus, the Italian historian Aldo Schiavone attempts to drill down through the sedimented legends to the bedrock of historical fact.
---