Gettysburg: The Last Invasion
On the 150th anniversary of the Battle of Gettysburg, Lincoln scholar Allen C. Guelzo offers a detailed account of the battle, with a focus on the human side of the history.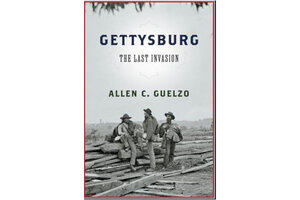 Avoiding the Battle of Gettysburg this summer has become all but impossible.
The next few days will be especially noisy. Re-enactors, historians, and hundreds of thousands of curious Americans will wander through the path of Pickett's Charge, survey Seminary Ridge, and try to make sense of the landmark battle of the Civil War. They will, in all likelihood, come in even larger numbers than usual, lured by the attention surrounding the 150th anniversary of the three-day battle that left Robert E. Lee's Confederate soldiers scurrying back to Virginia in defeat and Union soldiers frustrated by George Meade's refusal to chase Lee and finish him off.
More than 1 million people visit the Gettysburg national military park each year, most of them in the summer. This year, at least 30,000 visitors a day are expected during the 10 days surrounding the anniversary.
Between July 1 and July 3, 1863, the Union and Confederate armies each counted more than 20,000 dead, wounded, or missing men. And, as historian Allen C. Guelzo makes clear in his detailed but accessible account of the battle, tactical mistakes, near-misses, and what-ifs add to the fascination of a campaign fueled, in part, by Lee's desire to have his men live off the Pennsylvania farm land.
On-the-fly adjustments by Union generals contrasted with the hesitancy and confusion of the Confederates, a point made by Guelzo throughout much of this battle history. He writes: "These self-starting performances became almost routine for Union officers at Gettysburg; by contrast, they are achingly absent from the Army of Northern Virginia. It is possible to say, in that light, that Robert E. Lee lost the battle of Gettysburg much more than George Meade won it."
---