Italian Ways
For every moment that Italy annoys Tim Parks, there are two in which it delights him.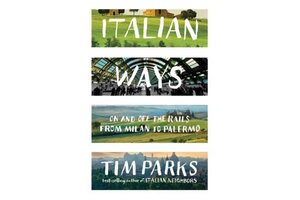 Can a country's entire history and culture be understood by studying its railways? When it comes to Italy, argues Tim Parks, the answer is yes.
If you are an Italophile (or at least a Europhile), you probably need no introduction to Parks. An English author living in Italy for more than 30 years, Parks is best known for his 1992 bestseller "Italian Neighbors," a humorous and insightful examination of his life as an expat in a small town near Verona.
Now Parks is back with Italian Ways, another look at his adopted country. This time he's working on a smaller canvas and taking a narrower scope. Fortunately, however, Parks's shrewd wit remains on display. As a chronicler of Italy, Parks is blessed with a welcome gift for treating his subject with the sort of bemused affection that allows for warmth and yet keeps sentimentality at arm's length.
"The train arrived in Italy in 1839," Parks tells us. The Italians lagged behind the English in adopting this new method of travel but, as the country became a nation in 1861, it strove mightily to catch up. Partly this was because train travel offered a path toward unity – something the fractured Italian peninsula badly needed – and partly due to a long-standing inferiority complex.
"The anxiety to compete with northen European rivals, a constant need to prove themselves equal if not superior to their neighbors, is still an important factor in Italian decision-making today," Parks notes.
And really, it is contemporary Italy that interests Parks most. A resident of Verona, he teaches in Milan, a job which requires him to commute between the two cities (a distance of about 100 miles) two or three times a week by train. Doing so for many years, he's become an accute observer of Italian train travel and travelers.
If he sees much of Italy's past in his journeys (the "palatial railroad depots" that Mark Twain preferred to "Italy's hundred galleries of priceless art treasures"), he notes even more of its present. There are the immigrants – the Indian immigrants who sell roses, the Chinese immigrants who sell jewelry, and the Slav immigrants who have learned to help Italian technophobes operate the electronic ticketing kiosks with frightening speed (for a fee, of course).
---