Mo'Meta Blues
Polymath bandleader Ahmir 'Questlove' Thompson chronicles his life in beats.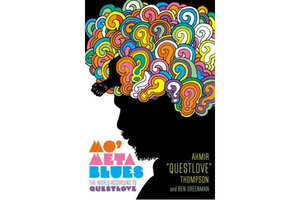 By Robert Christgau for Barnes and Noble Review
Ahmir Thompson's emergence as a major celebrity is the kind of anomaly that seemed beyond the reach of popular music in the 21st century. Not because he's a hip-hopper: Jay-Z, Kanye West, Lil Wayne, and many lesser others are boldface names.
But they're all rappers, natch, and even the brightest of them isn't as damn verbal, or as damn humane, as Questlove, who's only a damn drummer. Which is also an anomaly – groups are rare in hip-hop these days, bands like Questlove's Roots unheard of, Questlove himself the first major drummer to emerge from the music since Sugarhill's Keith LeBlanc and arguably the best working anywhere.
And for his band to somehow become the house band of "Late Night with Jimmy Fallon" is very nearly miraculous. Questlove's range and acuteness are so integral to the show that many believe they're why Fallon is about to displace Jay Leno and turn a hip-hopper into the thinking man's Paul Shaffer.
As is clear from Mo'Meta Blues, Questlove isn't precisely an intellectual. Although he attended private school for a while, his family wasn't middle-class enough to afford college, and if they had been it would have been Juilliard.
But where all musicians know music better than the vast majority of their fans and many are fairly encyclopedic about it, Questlove is a musical polymath of monumental obsessiveness – a polymath who needs a warehouse for his record collection, a polymath who once sent out a drum greeting to D'Angelo by quoting "a Prince lick that wasn't in the song we were playing, but that was in my head while I was thinking about the song we were playing," a polymath who points out that the Milli Vanilli song he chose for Ashlee Simpson's Fallon walk-on was the VH-1 version. (Really now – hadn't you always wondered about that?)
---