Southern Cross the Dog
Terror and redemption alternate in this darkly lyrical adventure set in the Depression-era South.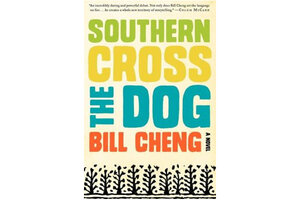 By Mark Athitakis for The Barnes and Noble Review
"The past is never dead," William Faulkner wrote in his 1950 novel-play "Requiem for a Nun." "It's not even past."
That line has become the stuff of know-your-history benisons. But Faulkner's intentions were always a bit darker than that: As John Jeremiah Sullivan recently wrote, the driving force of Faulkner's fiction was "the nightmare of the Southern past." Bill Cheng understands this, how history is as much something that gets done to you as something that's been done. Toward the end of his remarkable debut novel, Southern Cross the Dog, a bluesman-prisoner-preacher-mystic named Eli Cutter explains what life in Mississippi has taught him: "This is one thing I've learned. The one truth God has ever given to a man. And it's that the past keeps happening to us. No matter who we are or how far we get away, it keeps happening to us."
It'll do little good to linger too long over correspondences between Faulkner and Cheng, a recently minted MFA who'll inevitably look weaker for the comparison.
---