My Lunches with Orson
Orson Welles revealed much about himself and his career in these conversations with his close friend, fellow director Henry Jaglom, recorded over lunches together between 1983 and 1985.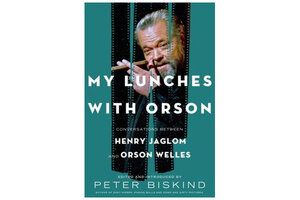 Orson Welles is a larger-than-life figure, revered by film aficionados and known to a wider audience for his masterpiece, "Citizen Kane."
Less familiar is his descent over the last three decades of his life from the fame and fortune he skyrocketed to as a young man in the 1930s theater world. Even "Citizen Kane," despite its critical acclaim, was a financial flop, and his subsequent film "The Magnificent Ambersons" became both a commercial and critical failure after the studio sliced 45 minutes off Welles's original cut and tacked on a schlocky happy ending while he was abroad.
Despite memorable performances in "The Third Man" and "A Touch of Evil," his career plummeted, culminating in minor roles in forgettable films and a stint as a spokesperson for Paul Masson wine. Sadly, you can find Welles's drunken outtakes on YouTube.
My Lunches with Orson goes some way toward explaining this downward spiral by shedding light on the personal foibles that hindered Welles's mammoth creativity and the ways that Hollywood's studio machine blocked him at every turn. Edited by film historian Peter Biskind, the book consists of conversations with Welles's close friend, fellow director Henry Jaglom, recorded over lunch between 1983 and 1985, the final years of Welles's life.
---