Difficult Men
Television today is full of complex drama, damaged characters, and questionable moral compasses – and we can't get enough. Journalist Brett Martin examines TV's "new Golden Age."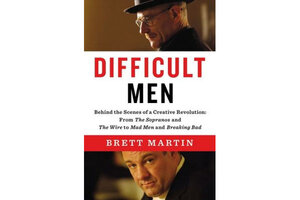 Few tidy endings, rarely a lesson learned, and not a thin drop of whimsy. No white or black hats, just shades of gray that pulse by the minute. And all-too-human humans, brimming with contradiction and complexity, lost in halls of mirrors that bend and crack, distort and reflect.
Sounds like a literary concoction, missing only a variation on "borne back ceaselessly into the past." But throw in a few other ingredients – like some of the best scripts since a show-runner named Shakespeare roamed a stage – and you've got a recipe for a revolution.
For more than a decade, a steady stream of ground-breaking shows have produced a new Golden Age of Television, at least for the few million viewers who watch them. Segregated in basic and premium cable, they spawn more buzz than bucks. But those who do tune in are won over by "ruthless" storylines that are "more ambiguous and complicated than anything that television ... had ever seen."
To borrow a term from the comic-book world, what's the origin story? How did the producers, networks, directors, and "show-runners" – whatever the heck they are – produce the "signature American art form" of this century? Journalist Brett Martin unspools the fascinating tale in Difficult Men: Behind the Scenes of a Creative Revolution from The Sopranos and The Wire to Mad Men and Breaking Bad.
---