This Town
What really goes on among the power-brokers of Washington, D.C.? New York Times Magazine correspondent Mark Leibovich tells us in a book that is as dark as it is wildly entertaining.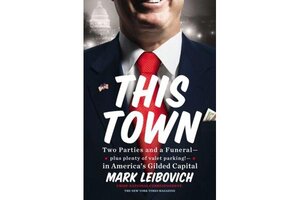 You can judge this book by its cover. Back cover, that is. It reads: "WARNING: This Town does not contain an index. Those players wishing to know how they came out will need to read the book."
In other words, Beltway types will eat this up. So, too, will anyone who spent recent campaign seasons monitoring Nate Silver's election forecasts, wondering whether David Gregory is worthy of "Meet the Press," or marveling at the staying power of Newt Gingrich.
Mark Leibovich, the chief national correspondent of The New York Times Magazine, stands both above and among the fray in Washington. (, the knowing nickname used by the chattering classes in the nation's capital, explores the shameless vanities of that same population of electeds, formers, media and PR types, lobbyists, and even POTUS himself.
Those blessed enough to be ignorant of D.C.-speak should think of electeds as members of Congress, formers as the retired and ousted Senate and House members now trading on their so-called public service for taxpayer-fueled private-sector riches, and POTUS, of course, is the president of the United States. Not to be confused with FLOTUS (Michelle Obama, at present), VPOTUS (Joe Biden) and SCOTUS (the Supreme Court).
Leibovich acknowledges his own role in the spin-happy Beltway Twitterverse throughout the book. Such "full disclosure" moments serve a need for faux self-loathing as he documents the bottomless striving and lunacy of government life, not to mention hypocrisy beyond anything conjured by the likes of Christopher Buckley.
---