Real Talk for Real Teachers
I was prepared to dislike this book. But Rafe Esquith's good sense won me over.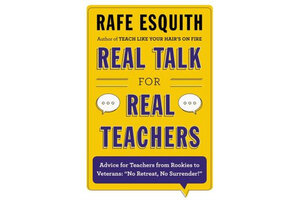 The role of public schools is one of the most hotly debated topics in American culture wars today. That many young people lack the necessary skills to compete in a global economy is a point of consensus. The reason why, and thus, the solution, is the point on which few can agree.
I was primed to dislike veteran teacher Rafe Esquith's response to the controversy, Real Talk for Real Teachers: Advice for Teachers from Rookies to Veterans for reasons large and small: I've had my fill of Hollywood stories like "Dangerous Minds" and "Freedom Writers" about middle-class white teachers saving urban minority students; I'm averse to people who toot their own horn with how-to books relating their successes; and exclamation points bring out my inner-skeptic.
Finally, my husband, a Bronx middle-school teacher, spent this year trying to keep his students in their seats and navigate a principal who liked to lock his teachers in a room and lecture them about their short-comings, by yelling, "It's just common sense!" (He also loved showing them "Stand and Deliver" and "Freedom Writers".) My husband heard enough pithy platitudes about teaching from his principal and grad school professors to last a lifetime and pretty much growled when Esquith's book came in the mail. Suffice it to say, I kept it out of his sight line.
So I was surprised at how much I liked this book – and my husband liked the sections he read, as well. I teach, too, at the college level, and though that's a very different animal, I found myself taking notes to bring back to my classroom in September. That's because "Real Talk" isn't full of easy answers or formulas or success stories.
---