The Night Gwen Stacy Died
When a stranger turns up at her gas station, promising escape from Iowa and a chance at a new identity, Sheila Gower is only too happy to jump and run.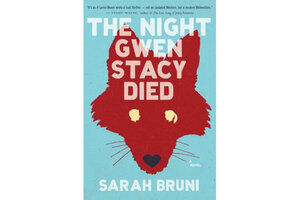 By Amy Benfer for The Barnes and Noble Review
Sarah Bruni's debut novel The Night Gwen Stacy Died is about small towns, sex, coyotes, and 1970s superhero comics. It is also about how girls and boys create their identities (secret and otherwise), escape small towns (via fantasy, car, crime), and write themselves into and out of stories in which, at first glance, they appear to be only minor characters.
On the cusp of 18, Sheila Gower has one friend ("she had always preferred the company of intense and loyal outsiders"), no plans to go to college (having grown up near one of the "more modestly sized Big Ten universities in the Midwest," she "felt she had already been to college and she really hadn't thought much of the experience"), and works nights in a gas station, where she studies French and plans to escape small-town Iowa for Paris.
In walks a slightly older boy with an I.D. (fake, she presumes) proclaiming himself to be Peter Parker, the alter ego of Spider Man. After her French teacher dashes her illusions of Paris, telling her that French people also have Burger Kings and thunderstorms and bills to pay, Peter offers her a chance to participate in his fantasy instead. Sheila thinks, "maybe this was one way to leave a place, with a boy and a gun" and agrees to roadtrip to Chicago, playing Bonnie to his Clyde.
---