The Great Dissent
How US Supreme Court Justice Oliver Wendell Holmes changed his mind – and a nation – on the question of freedom of speech.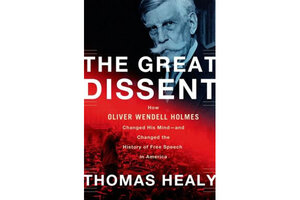 This absorbing book is about the law, which for all its grandeur is a moving target. It also is about change, how one man's thinking evolved nearly 100 years ago – and how we are all better for it. In 1919, US Supreme Court Justice Oliver Wendell Holmes was 78 years old, still thinking long and hard about doing the right thing – and wondering if he had done it.
Holmes devoured books that challenged his thinking and listened carefully to people who didn't agree with him. He didn't dismiss their arguments out of hand. He gave them consideration. He didn't stay the course unthinkingly, or dig in his heels, or raise his voice. In the end, he changed his mind, and a nation in the bargain.
Law professor Thomas Healy's first book, The Great Dissent: How Oliver Wendell Holmes Changed His Mind – and Changed the History of Free Speech in America, is a vivid account of the social, political, and intellectual undercurrents that affected early 20th-century lawmaking. The law, the author's narrative demonstrates, is not always a rational and logical thing, but the product of emotion, experience, and personal relationships.
Healy ably shows that Holmes, Supreme Court Justice from 1902-1932, was once opposed to freedom of speech as we know it today. And so were many of his fellow citizens.
Stare decisis at the time, borrowed from British practice, was that you could speak and publish freely without fear of prior restraint, but once you had spoken, the state had the freedom to prosecute you.
The First Amendment to the Constitution, which states that "Congress shall make no law … abridging the freedom of speech, or of the press," didn't carry much weight with Congress, prosecutors, judges, or jurors back then. The Sedition and Espionage acts passed during World War I became powerful tools to go after unpopular speech, groups, and individuals.
---