March: Book One
Civil rights movement icon John Lewis tells the story – in graphic novel form – of the struggle to give African-Americans equal rights.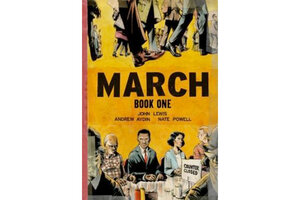 Reviewed by Barbara Spindel for The Barnes and Noble Review
Long before the advent of the "graphic novel," the occasional comic book focused on the feats of more tangible superheroes. Perhaps the most famous example came in 1958, when a pacifist organization called the Fellowship of Reconciliation published a single-issue comic about the up-and-coming leader of the 1955 Montgomery Bus Boycott. "Martin Luther King and the Montgomery Story" explained the tenets of nonviolent action that had guided the yearlong boycott, which led to the desegregation of the Alabama city's public bus system; it sold more than 250,000 copies and influenced young activists working to desegregate the Jim Crow South. That comic book is read by the characters in the powerful new graphic novel March, which tells the story of the civil rights movement from the perspective of another one of its icons, Georgia congressman John Lewis.
"March" has been planned as a trilogy, and the release of its first volume takes place on the eve of the fiftieth anniversary of the March on Washington for Jobs and Freedom. Of all who spoke in front of the Lincoln Memorial on that summer day in 1963 – most famously King, who delivered his "I Have a Dream" speech – only Lewis is still alive, making this project, intended for young adult readers, feel all the more vital.
---