Archangel
Andrea Barrett's new short story collection follows a multigenerational collection of characters, all hard at work in the field of science.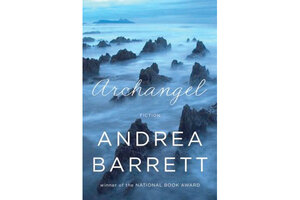 Reviewed by Katherine A. Powers for The Barnes and Noble Review
Andrea Barrett has established her own little demesne in the world of fiction, one pervaded by science and metaphors drawn from its concepts. Here, she has cultivated a multigenerational, intertwined strain of characters, shoots of which have popped up from story to story since "The Voyage of the Narwhal."
Evolutionary biology has been an informing presence behind these narratives, and it is again in Archangel, Barrett's new collection of stories, all five of which concern the tribulations of toilers and aspirants in the field of science.
In the first, "The Investigators," we find a twelve-year-old Constantine Boyd in 1908, sent from Detroit to work for the summer on an uncle's farm in western New York State, where he develops a lasting interest in doctoring animals. Here he meets Henrietta Atkins, a high school teacher in her mid-fifties who, with his uncle, is conducting experiments with cave fish, the object of which is to determine how they lost their eyes in the course of their evolution. Excited by this research and the enthusiasm for scientific and technological investigation he finds in the community, Constantine would like to stay on, but that course is blocked. Indeed, stymied ambition and confounded development play a large part in these tales, reflecting (perhaps) the waste that is nature's own way of going about its business. We encounter Constantine again, eleven years later, in the last story, "Archangel" – where we also discover Eudora MacEachern from Barrett's last novel, "The Air We Breathe" – and find that his intention to become a vet has been thwarted by the Great War and the subsequent military campaign in Russia. We leave him up in the air – literally – but the student of Andrea Barrett's work will not be surprised to find him at large again.
---