Classic review: The Riddle of the Sands
Was Erskine Childers' 1903 novel the first great modern spy novel?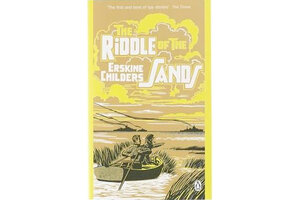 Reviewed by Michael Dirda for The Barnes and Noble Review
Young people looking for adventure fiction now generally turn to fantasy, but for those of a certain age the spy thriller has long been the escape reading of choice. Like many teenagers, I devoured the exploits of James Bond, but also those of 007's American cousins, in particular Donald Hamilton's Matt Helm ("The Ambushers," "The Intriguers," et al.), Edward S. Aaron's Sam Durell ("Assignment: Ankara," "Assignment: Sulu Sea," et al.), and Philip Atlee's Joe Gall ("The Paper Pistol Contract," "The Silken Baroness Contract," et al.). Am I alone in remembering with fondness John Craig in James Munro's "The Man Who Sold Death" and its three sequels? Of course, for titillation, as well as comic-book style action, one could always rely on Peter O'Donnell's adventures of the quite literally stunning Modesty Blaise, who could gain the drop on the bad guys by simply entering a room topless.
These books were all very much action-oriented. Not so, the more cerebral thrillers of the 1960s and '70s. Len Deighton's "The Ipcress File" introduced a shrewd working-class operative without a name, while John le Carré's "Tinker, Tailor, Soldier, Spy" made espionage almost bureaucratic, a more deadly variety of corporate intrigue. But le Carré was also a master of intricate plot construction, deeply knowledgeable of the tradecraft and technical aspects of spying, and, above all, a superb stylist, in fact a literary author at heart. Most of all, his books were, and are, moral dramas, as well as political ones.
---