Forgive Me, Leonard Peacock
Matthew Quick's novel is the harrowing but beautifully written story of a desperate teenager.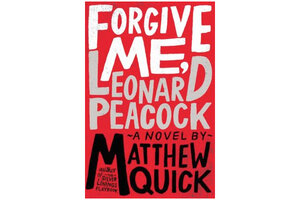 The confluence of beauty and terror– that's how my high school art history teacher described the sublime. A sublime painting or poem would spark fear or awe through natural beauty, grandeur, or infinity. Not long into Matthew Quick's Forgive Me, Leonard Peacock, I realized I was experiencing sublimity firsthand.
Leonard Peacock has something special planned for his birthday. Before he leaves for school, he stows his grandfather's WWII P-38 pistol in his backpack along with four gifts. Leonard plans to give the gifts to the four most important people in his life, then shoot his former best friend, Asher, and commit suicide. Thoughtful and awful: sublime.
One present is for his chain-smoking, Humphrey Bogart-quoting neighbor Walt, a geriatric father figure who has shown Leonard every Bogie movie ever made. They communicate mostly in Bogart quotes, which Leonard says gives their exchanges "a weird sort of sense that is unpredictable and almost poetic." Walt's classic black-and-white movies have given Leonard a black-and-white moral code.
The second is for his Iranian classmate Baback, a violin prodigy. They struck a deal as freshmen: Leonard could listen to Baback practice in the auditorium during lunch as long as he didn't say anything.
The third is for Herr Silverman, the observant Holocaust and German teacher. He makes a point of greeting and saying goodbye to each of his students. "There have been days," Leonard says, "when Herr Silverman was the only person to look me in the eye." Silverman is one of the few who recognizes that Leonard is in danger, and tells him, "Hold on."
---