A House in the Sky
Amanda Lindhout recalls her 2008 abduction in a memoir that is gritty and raw, yet also nuanced and moving.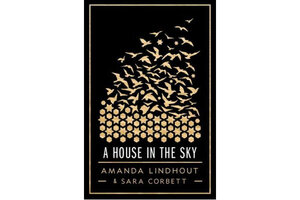 A budding Canadian journalist with a penchant for travel, 27-year-old Amanda Lindhout never dreamed that her adventures would take her to Somalia, where she would be kidnapped by Muslim extremists, held captive with Australian photojournalist Nigel Brennan for over 400 days, denied adequate food and water – and live to tell the tale.
But that's exactly what happened to her in 2008. The ordeal unfolds in her book co-written with Sara Corbett, A House in the Sky, Lindhout's memoir of friendship and compassion despite the horrors of being held hostage.
The book opens on Lindhout's childhood in rural Canada. Raised by a working-class young mother and a violent stepfather, her hardscrabble upbringing leads her to fantasize about the far-flung places she sees in her secondhand copies of National Geographic.
In hopes of exploring the world, she forgoes university for a job as a cocktail waitress; she saves up enough money for her first jaunt, a trip to Venezuela and Brazil. But her grandfather warns her, "I hope you know if you get yourself into trouble, we won't have any money to get you out."
Her grandfather's words do little to deter her. Exhilarated by her adventures in South America, Lindhout ventures further, this time into Egypt, Jordan, Lebanon, Israel, Afghanistan, and more. Through her travels, she gets a job lead that lands her a TV news correspondent job in Baghdad.
But she stumbles as a fledgling reporter and – wanting to make her mark as Dan Rather did when he reported on a dangerous hurricane in Galveston – she sets her sights on covering Somalia. "There were stories there – a raging war, an impending famine, religious extremists, and a culture that had been largely shut out of sight. I understood that it was a hostile, dangerous place and few reporters dared go there. The truth was, I was glad for the lack of competition."
She encourages an old flame, Nigel, to join her there. And, while traveling on assignment, their car gets stopped by a band of Somalis. But they're not there to rob them. They're there to abduct them.
---