For Discrimination
The constitutional mission of the Fourteenth Amendment is justice, and not the "racial laissez-faire" of colorblindness, argues Harvard Law Professor Randall Kennedy.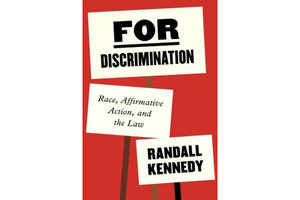 In the Supreme Court term that concluded last June, the justices booted an important case, Fisher v. Texas, back to the Fifth Circuit Court of Appeals. With the remand came a key instruction: apply strict scrutiny, the most probing judicial test. When the Fifth Circuit reconsiders the case, which concerns an affirmative action program at the University of Texas, it will therefore do so with the greatest possible skepticism. The judges of the Fifth will assume that the program is unconstitutional and treat it with the same distrust they would a law that says blacks cannot sit at the same lunch counter as whites, or use the same bathroom.
In his new book, For Discrimination, Harvard Law Professor Randall Kennedy refutes that equivalency, which puts affirmative action in the same category of wrongs as Jim Crow.
The overriding point of contention in "For Discrimination" is "colorblindness," a commitment shared by American voters and Supreme Court justices alike.
Kennedy parses the colorblind into two camps. "Immediatists," such as Chief Justice Roberts and Justices Scalia and Thomas, hold that the way to achieve racial justice is to stop, right now, relying on race as a criterion by which to make any consequential decision. "Gradualists," such as former Justice O'Connor, believe that we are not yet ready to stop making decisions on the basis of race, but that eventually we will be, and the country will be the better for it.
---