Command and Control
Our own nuclear missiles may be a greater danger to us than those of our enemies.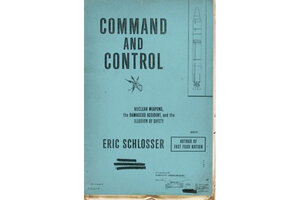 When the atom bombs dropped on Japan ushered in the nuclear era in 1945, humankind – including many of the scientists who had developed the two weapons – was shaken for a spell. A poll found that more than half of Americans favored having the United Nations take control of the armed forces of all nations.
Man, after all, had created something that got hotter than the surface of the sun and could obliterate cities in the blink of an eye. The invention that brought a swift end to World War II also made the world seem less safe. In 1952 the United States tested a hydrogen bomb that was 500 times more powerful than its progenitors, and by 1968 America boasted 30,000 nuclear devices, including land mines, depth charges, artillery shells, and torpedoes. The army soon would deploy a tactical nuclear-armed gun, the Davey Crockett, which a single soldier could fire.
"Dr. Stangelove," the satiric 1964 film, urged us to "Stop Worrying and Love the Bomb." We haven't fully complied, but we do appear to have stopped worrying. At least, that is Eric Schlosser's contention in his third book, Command and Control: Nuclear Weapons, the Damascus Accident, and the Illusion of Safety.
---