Drama High
How a struggling Pennsylvania high school became a theater dynamo.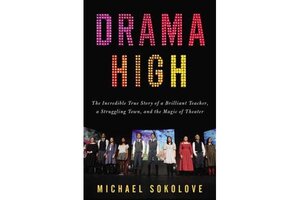 Warning: flashbacks may occur for those with theater backgrounds.
In a blue-collar post-industrial town in Pennsylvania, more than 500 people have gathered to see a group of high school kids. A reporter, and some major league professionals sit in the audience – they're watching every move the kids make. No, it's not for football, basketball, or baseball. These students are onstage in a play, and they're making high school theater history.
Drama High: The Incredible True Story of a Brilliant Teacher, a Struggling Town, and the Magic of Theater is a fantastic piece of reporting from Michael Sokolove. He dives into the last year of a boundary-breaking teacher's career, revealing his and his students' personal and professional triumphs and failures in an attempt to understand how he achieved educational greatness.
The stakes are high for these students as they attempt to take a show to the national level. For some, a college scholarship could mean the difference between a career in the arts and a job at a manufacturing plant. For others, knowing they did the best job they possibly could, and that their teacher is proud of them, is enough.
Harry S. Truman high school is a public school. It's not a magnet or charter school. The school's theater has splintery wooden pews for seats. The theater program has been consistently underfunded since the 70s. And yet, the students at this school have embraced theatrical productions the way other schools embrace sports. Why? Lou Volpe.
---