Doctor Sleep
Stephen King's new novel catches up with 'Shining' character Danny Torrance as an adult.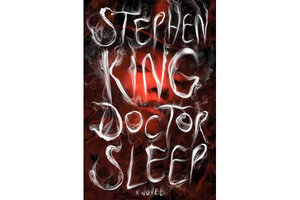 "The mind was a blackboard. Booze was the eraser."
Welcome to Doctor Sleep, a long-awaited sequel to Stephen King's 1977 bestseller "The Shining." King has remarked that the earlier novel, about a young boy who sees into the minds of people while his alcoholic father copes with violent hallucinations, was about his own alcohol and drug demons, though he didn't recognize it at the time.
The boy in "The Shining," Danny Torrance, is closing in on middle age when "Doctor Sleep" hits its stride. Like his father, Jack Torrance, the doomed caretaker during a snowed-in off-season at a Colorado hotel, Dan Torrance (Danny has been left behind) has become a meandering alcoholic in his adult years.
A chanting group of vampire-like humans, shielded by their convincing disguise as RV-friendly travelers, bring a fair amount of menace to the proceedings once the reader gets past some cartoonish chanting and ritual ceremonies. But what is truly frightening is King's penchant for portraying the disintegration of drunks and druggies as well as everyone around them.
Consider the following paragraph, a passage with King's trademark gross-out humor and horror mixed with the humiliation of addictive behavior.
"His stomach gave a liquid lurch. He burped up a mouthful of sour gunk that tasted of whiskey and swallowed it back. It burned going down. He rolled off the mattress onto his knees, staggered to his feet, then swayed as the room began to do a gentle tango."
---