Traveling Sprinkler
The poetic adventures of the quirky, exasperating, yet oddly lovable Paul Chowder continue in Nicholson Baker's sequel to 'The Anthologist.'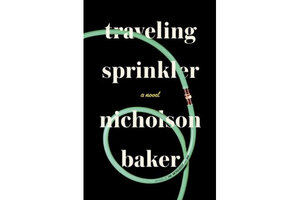 Poets get a bum rap. While I don't doubt the variety exists, I've never actually met a pretentious one – at least not one who had actually been published – outside of the pages of a book. Granted that I live in the Midwest, but I've never come across a beret, cape, or fake British accent among the lot.
Paul Chowder, whom readers first met in Nicholson Baker's 2009 novel, "The Anthologist," would fit right in – except that he's giving up on poetry.
Paul, who is still pining for Roz, the woman who had left him in "The Anthologist," has decided to switch to songwriting in Traveling Sprinkler, a novel as meandering yet grounded as the titular invention. "I realized I didn't want to write sad complicated poems, I wanted to write sad simple songs. In other words, I want to write sad poems that are made happier by being singable," he says, before buying an acoustic guitar in a cardboard box from Best Buy.
Paul's former training as a classical bassoonist may or may not be of assistance in his new endeavor, but it sure doesn't help him as a lyricist. Take an early example of a protest song: "I'm eating a burrito, and I'm not killing anyone/ I'm eating a burrito, baby, and I'm not killing anyone."
The good news is that "Only Rhyme," the book he was struggling with in "The Anthologist," is still selling, and he can always shrink-wrap boats for some extra money.
Paul spends his days trying to learn to write pop and love songs and musing about perfect inventions such as the traveling sprinkler and Debussy's "The Sunken Cathedral," going to Quaker meetings, watching "The Office" reruns, working out at Planet Fitness, and driving in his beloved Kia Rio.
"I like writing in the car. I can drive somewhere, park, put my notebooks and my papers on the dashboard, clamp on my headphones, and think hard in all directions," he says.
He also has taken up smoking cigars. (He's given up alcohol and believes he needs a new vice. "It's my brown period," he tells a horrified Roz.)
There's also plenty of time to discuss drone warfare, Stravinsky, Keats' poem, "When I Have Fears," why he thinks Picasso is overrated, and take carefully aimed swings at the poet Archibald MacLeish.
---